Anne with an "E" is a new series on Netflix based on a book 'Anne of Green Gables' (see here). I watched the series as soon as it was released but was too busy to write this blog to comment on it. Until now, that is.
The series is a combination of classical stories we all heard off, Jane Eyre's classical work as well as film 'Annie'. But, it is also the second version of the series after 1985 adaption of the original book written by Lucy Montgomery. Thus, this film again presents Anne (Amybeth McNulty) who is an orphan going from one home to the other in a time when people were taking orphans to help them in the house in exchange for food and shelter. Orphans were obviously treated very poorly and worse than any servant. Anne was living in the so-called asylum and moving from one home to another where she was bullied and exploited.
This all started to change when she was mistakenly sent to the Green Gables farm run by Marilla (Geraldine James) and Matthew (R.H. Thompson), two siblings who never married as they had to take responsibility to look for the farm. However, while Anne enthusiastically babbles about beauty of the landscape to her father to be, his sister reacts negatively asking why the asylum sent a girl instead of a boy who was supposed to help on the farm. This is where Anne's battle to earn her stay starts as Anne instantly falls in love with the farm and the elderly couple.
However, the way towards staying is not easy as there are many obstacles on her way including her snappy and bubbly temperament and the fact she does not stand injustice and false accusations. Thus, she gets sent away by mistake only to be taken back to the farm but the idyllic situation does not last long. Anne starts school and as enthusiastic as she is, she cannot earn hearts of narrow minded peers in class, or teachers and the wider community who rejects orphans. Nevertheless, Anne manages to win them over with her knowledge coming from the thirst for learning (e.g. she saves the village from mass fire by knowing that windows on the first burning house need to be closed to deprive the fire of oxygen) and by saving life of her friend's sister when her mother, who banned her from playing with Anne, is away, etc. The series ends in a way that invites continuation but I will not say how it ends not to be a spoiler.
What is very remarkable about this series is its feminist character. Thus, when Marilla states that Anne is no good for the farm for she is not a boy, Anne energetically snaps back saying girls can do as good, or better than any boy. In the same way, she snaps at her male peers from school and she competes in knowledge with Gilbert (Lucas J. Zumann) who ends up being a romantic crush too. Thus, this series is a feminist delight showing even one little, but determined, girl earning a respect she deserves due to her unquestionable intellect.
However, it must be noted that my enthusiasm might be coming from the fact I only watched this new series and not the first 1985 version. Thus, some reviewers trashed the series. For example, TV Guide stated that "Anne of Green Gables Fans Are Totally Traumatized By Netflix's Adaptation" (see at this link) arguing that fans dislike the new adaptation, and pointing towards a hashtag #NotMyAnne, which indeed presents a harsh criticism of the series.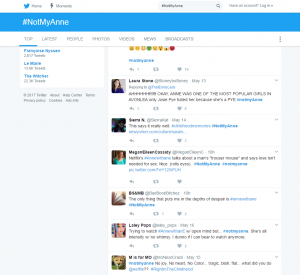 On the other hand, New Yorker runs an indicative title on the series review, 'How not to adapt 'Anne of Green Gables' (see this link) drawing criticism from the original adaption of 1908 book and its first adaptation in 1985. In that, the review criticises director and writer Moira Walley-Beckett of popular series 'Breaking Bad' for trying to chart some new territory in the series, and nevertheless states that Walley-Beckett "charted the Hell out of it. The result is part the "Anne" we know and love—apple blossoms and hard-won understandings, Cuthberts, raspberry cordial—and part untrustworthy stranger, not "Anne of Green Gables" at all. It adds new dialogue, scenes, and plots; it subtracts jollity and subtlety. And it's no documentary. It opens with a sequence that evokes "Game of Thrones": camera sweeping over coastal terrain, strings and pounding drums, horse and rider galloping through water. Then it shifts to an illustrated indie-rock video of a title sequence, set to a song by the Tragically Hip. Message received: this is not your beloved Megan Follows series. (Don't get me started on the new Gilbert.)"
Thank you for reading.