Director: Nora Fingscheidt
I watched The Unforgivable when it was first released (2021) but did not blog during the pandemic, courtesy of excessive and abnormal isolation in the UK that lasted too many years and caused me immense stress plus an increased workload. The Unforgivable is not just another Sandra Bullock film (and we know she can't do anything wrong). It is also a film tackling the impact of early socialization, which features in my research prominently. Therefore, Ruth (Sandra Bullock) is a convict leaving prison after 20 years for the murder of a sheriff who tried to evict her from her home where she lived with her younger sister Katie (Aisling Franciosi) whom she raised after her mom died at childbirth, and later after their father's suicide.
Katie was adopted and does not remember her loving sister, but the film shows flashes from childhood and memories including the picture of a piano on her arm that her sister drew and used to play with her showing her how to play and entertaining her. As an adult, Katie plays piano very skillfully and has memories of arm piano playing as well as playing as a child but cannot remember her sister who is hiring a solicitor to help her speak with Katie's adoptive parents about seeing her and being again a part of her life. This part of the story was incredible. Another part of the story is centred on two sons of the murdered sheriff who are seeking revenge because they lost their father and then their mother who became an alcoholic. They were also evicted and lost everything, having a hard childhood. Again, an incredible and powerful moment showing how early socialization affects us.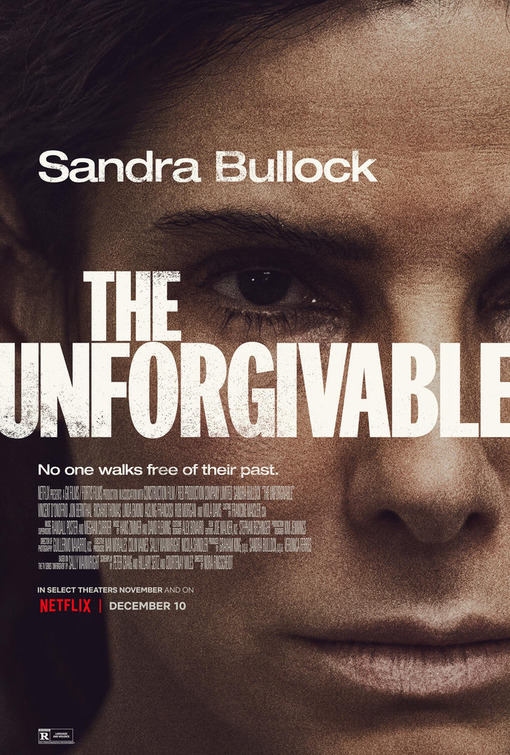 The film thus portrays these life stories and shows how a miserable chain of events can change people's lives. Had Ruth's mother not died during childbirth, maybe her father would not have killed himself, then maybe they would not have gotten evicted, and the sheriff would not end up murdered. Thus, neither Ruth would go to prison and lose contact with her sister, nor would the sheriff's boys lose a father. In addition to that, the Unforgivable portrays how poverty affects people and causes grief and the fact we always need to think of addressing poverty and the lack of privilege wherever and whenever we can find it. What is more, there is an unexpected twist of events in the film about the sheriff's murder as well as a moving moment when the sisters finally reunite…
I truly enjoyed this well-made film with outstanding acting (not just from Bullock, that is a given, but others as well). For example, Aisling Franciosi is excellent as Katie and Will Pullen as Steve. A great film!
Thank you for reading!