Author: Roisin Meaney
I recommended Two Fridays in April as part of the book club originally formed for the #WECAN project. When I first started to read it, I ended up annoyed because it looked like a soppy love story with Dafne, a widowed real estate agent meeting Tom who is trying to sell a house but is late for the appointment. Dafne gets soaked, but you can feel a spark, etc. I ended up asking myself, what on earth did I put on the book club's agenda? But then the chapter ended, and stories of various women started, Mo (Dafne's mother-in-law), Isobel (Dafne's mother), Una (Dafne's stepdaughter) and we learn the story of these women and how interconnected their lives are without any of them realizing it as much as it actually happened.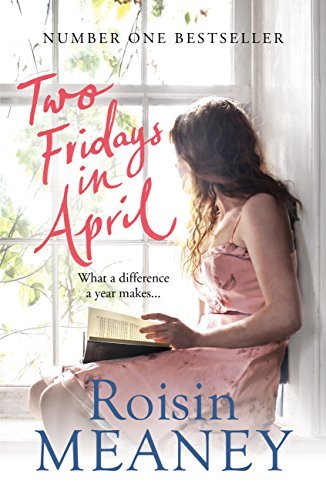 I particularly loved the kite flying moment in the book that runs through all personal stories, which are narrated on two Fridays in April, but each woman tells us her life story and a story of that particular day. Kite flying is something they all notice but without knowing who is doing it or that it is a person connected to them, and without knowing what story lies behind kite flying. An incredible one as it transpires, a love story of two people who met because of a tragedy and who would have otherwise not known each other. There is a story of love here that comes because of death, the subliminal message being that everything is not as it seems and that something tragic can also result in people being brought together and re-united even after a difficult past, tragic moments and general misunderstanding.
Two Fridays in April is a well-written book with some unexpected events and is not always visible what will happen next. The book reads like a puzzle, the more stories we read the more we put a puzzle together. The feeling the book created reminded me of a film, American Beauty, which also had those deep moments when you think about the world and the life you are leading and the kite moment in this book is also the one that makes you stop and wonder. I also enjoyed that the story is based in Ireland, so I ended up asking book club friends, who visited Ireland, about the culture there and whether there are similarities with British culture since the book also features charity shops and the cultural issues around shopping there. Therefore, there was a learning curve here and I will certainly be interested in reading further Irish stories. Then again, it is not surprising I liked an Irish story given that one of the best love stories of all time (personal opinion) is an Irish story. Obviously, I am talking about P.S. I love you!
Two Fridays in April was a truly enjoyable read and once I got caught up, I ended up staying all night reading the book. Had my Kindle battery not run out, I would have finished it in one night as I was unable to let it go (once I passed the first chapter, that is) so don't give up even if the first chapter is not what you expected.
Thank you for reading!