Author: Michelle Obama
I follow US politics and the media quite a lot because of the nature of the work I do, i.e., studying mass communications industries. I knew about Barack Obama's presidency and some of the initiatives he launched and how he tried to change the US. But what I did not know was his wife other than she is obviously beautiful because I never took interest in First Ladies of the US. I am not sure why, maybe I am just repelled by well-known US media hostility towards first ladies most notably the abuse and career damage Hillary Clinton faced as a First Lady and then as a politician herself. I wrote about that in two papers,one tackling her first presidential nomination and one on her second nomination.
Therefore, I only read this book because it was recommended by a colleague as part of the book club I formed as part of the #WECAN project. So, once again, it was a book I would not normally read but boy, what an experience. What an amazing woman. The raw honesty, the reflection, the raw truth. This woman does not lie, she says it as it is, and she is a true storyteller. It was an outstanding experience to read this book and learn about her life and broaden my knowledge of other First Ladies beyond Hillary Clinton whose career I have followed since I was a child in Croatia during the 1990s.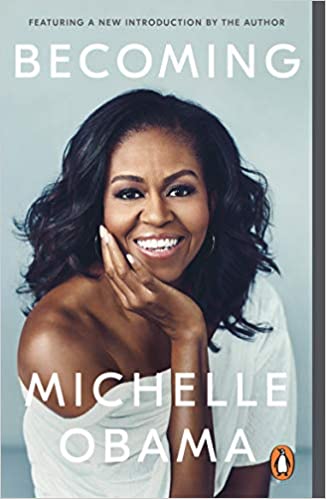 The book starts with Michelle Obama alone in a house away from the scrutiny of the White House making a toast and sitting at the doorstep of her house. At first, you ask why is this the start of the book but it becomes obvious as the book progresses as Michelle Obama never wanted the spotlight or politics but agreed to it out of love for her husband Barack who, as she lovingly and vividly describes, had a calling for politics. So, the book follows her childhood, teenage years, adulthood, University, first job in a law firm in Chicago and then meeting Barack and then, finally, the campaign and the White House. In the latter, she extensively writes about the constraints of living under constant security and control and about her struggles with trying to give her children some sense of normalcy.
There is so much food for thought in this book that it would take me 10 pages, at least, to describe it all. But what particularly stayed with me is her description of the deterioration of the South Side in Chicago, which is something I have been reading about over the last few years since I watched US Shameless. But whilst that is a series and I then read academic and professional articles, this is a living history that Michelle Obama writes from her own experience, e.g., community, family relations, poverty and the so-called White flight and deterioration of the neighbourhood, which brings about a different perspective as feelings are visible in the book and it is described so well one can feel on the scene when things are happening. In addition to that, I was particularly interested in her critical writing about the US media, which I wish she explored more albeit I understand this is me as a communications researcher speaking. She very correctly depicted this unfair focus on women's appearance and the patriarchal notion of how a woman should look and behave along with some stereotypical expectations of women's bodies. I was particularly interested in her decision to approach traditional women's magazines to get her message about tackling childhood obesity heard, which is exactly what Dr Mirela Holy describes in her forthcoming book chapter on women politicians and Croatian media (book announcement here) where she argues that sometimes the only way to be heard is to go to these magazines. Obama did that successfully to promote children's health and her amazing initiative of growing a garden in the White House, which still continues with the second First Lady after her now in the White House, Jill Biden and previously Melania Trump, with journalists jokingly saying even if there was an issue with handing over the power, at least garden survived.
All in all, a fabulous book worth reading. I thought at times there is too much to take in because it is so many decades of life in one book and so many things that happened, which naturally left some periods underdeveloped, e.g., the second presidential campaign but I enormously enjoyed reading about Michelle Obama's life and her life story.
Thank you for reading.